06 Feb 2023
Ensuring safe water supplies on brownfield housing developments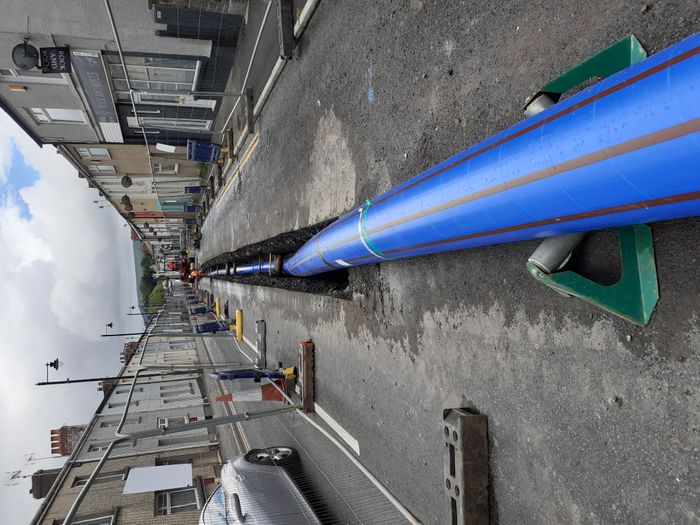 The Challenge
Here, Rich Pedley, Segment Manager at Aliaxis, explains how barrier pipework systems can provide a clean and safe water supply to brownfield land developments, which is crucial to the UK government's commitment to delivering 300,000 new homes each year through the mid-2020s.
The Solution
It's no secret that the UK is facing a housing crisis relating to the number of homes that must be built, year-on-year, to tackle the under-supply of homes. In an effort to tackle this growing issue, the UK Government pledged to produce around 300,000 homes per year every year, leading well into the mid-2020s. While the budget and the desire to build this number of homes are clear, the sourcing of land produces its own challenges. As a result, different types of land on which new developments are built is being explored.
A great example of this is the government's recent announcement of almost £2bn in funding, invested specifically in helping to unlock 1,500 hectares of brownfield land.
Challenges of Brownfield Land
Brownfield land, defined as any land that has previously been built upon but now lays derelict, has now emerged as a potential solution to this housing crisis. But again, this solution isn't without significant challenges due to the potential contaminants in the ground from previous occupancy on the proposed land. One of the main issues with contaminated ground is ensuring a clean water supply to the future planned homes. As a result, there is a significant focus on products and solutions suitable for installation on brownfield sites,
With the UK government expecting that over 60% of all new housing developments to be built on brownfield land, it is crucial that housebuilders and developers are using the appropriate systems to provide a protected water supply with longevity. Traditional water supply systems may be permeable to certain hydrocarbons such as white spirit, petrol and diesel – all of which may be present within brownfield sites.
Remediation work on the soil can be carried out prior to development, in order to remove the pollutants. However, this is a substantially costly endeavour, which could push projects far beyond the proposed budgets and disrupt planned timescales. Therefore, to ensure a clean and safe water supply to new homes build on brownfield land, certain materials that are resistant to these pollutants must be used.
Materials
UK Water Industry Research (UKWIR) provide a set of guidance outlines, which include a pipe selection table to illustrate which materials are safe to use in contaminated land. Standard or single-layer pipes are not safe to use as they will not be resistant to the permeation of contaminants and pollutants.
Pipe materials such as wrapped ductile iron, wrapped steel, copper, and aluminium lined polyethylene pipe (ALPE) all provide effective resistance to pollutants and, due to this safe barrier, can be used within brownfield developments.
There is a lot of debate among developers and water authorities relating to site investigations and soil analysis and whether this should be a requirement if a barrier pipe system is installed. Despite there being no definitive decision on this debate, the UKWIR provide this statement:
"The UKWIR project steering group have decided that a PE-Al-PE barrier pipe would provide sufficient protection for the supply of drinking water in all brownfield sites. If barrier pipes are specified, there is no need to carry out soil sampling and analysis and this may be the most cost-effective solution in some cases. It is therefore reasonable to expect all water companies will accept the use of a barrier pipe in all situations as a blanket approach."
System solutions
Of course, safety is paramount for brownfield land developments, but there are other factors to consider as well when selecting a water supply pipework system. Installation techniques, ongoing maintenance and the overall longevity of the system are all critical elements in the comprehensive development plan. Water supply solutions must be safe, but they must also fit into the budget of development projects.
One example of such a barrier pipework solution is our Protecta-Line. The original barrier pipe system, Protecta-Line has been utilised by water companies and housebuilders for over 25 years to safely deliver a clean and safe water supply to homes built on contaminated land or any site that may have a future contamination concern. A complete system approved to BS 8588, the British standard for barrier pipes and fittings, the comprehensive range includes a diverse range of both electrofusion and mechanical fittings to meet each individual project's requirements.
With this water supply solution, developers, contractors, and water utility suppliers are given the complete assurance that a safe and reliable solution is installed for the development. A vital element of the Protecta-Line system is that no costly soil sampling is required, which helps projects remain within budget.