08 May 2018
HEAD15 Work/Rescue Set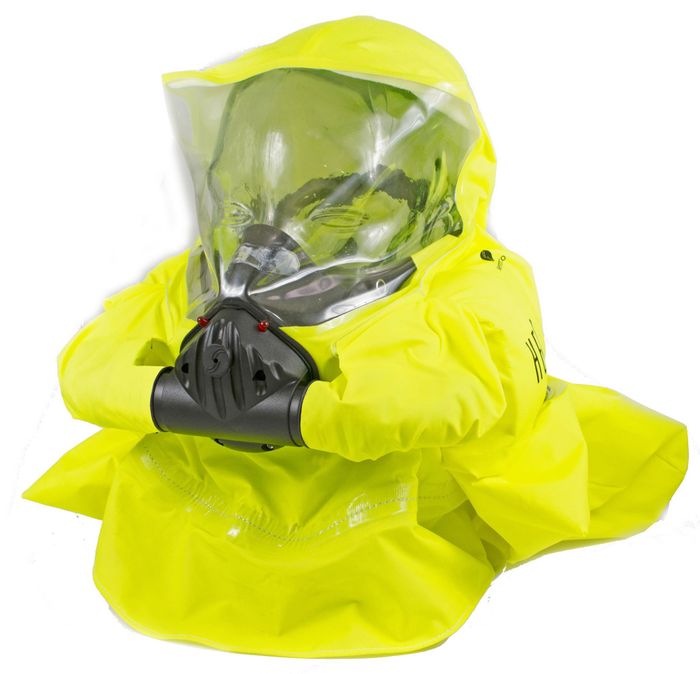 Features & benefits:
Automatic start – instant O2 supply
Maintenance free for 12 years – 36% more cost effective than our competitors
Ideal for confined spaces – no cylinder
Lightweight (1.6kg) & easy to operate – only half day training required for your teams
Unique latex neck seal and oro-nasal mask design – no face mask fit test required
Panoramic visor allowing optimum vision from hood
Audio & visual safety alarm indicating low oxygen level to user
Option to hire or buy
Storage system allows the unit to be stored, with no maintenance costs, for an initial 6 years, and then following a satisfactory validation test at this point and at 9 years the set can be stored ready for use for up to 12 years. If the set is used it can be returned to Semmco for reworking.
The apparatus has been designed and tested in accordance with EN 13794, EN 145 and EN 1146 where applicable, to demonstrate compliance with the essential safety requirements with EC Directive 89/686/EEC.
Instant Oxygen Supply
HEAD Sets are automatically activated when removed from there packaging and a starter candle boosts the initial oxygen supply by delivering oxygen into the breathing bag.
High Levels of Protection:
The HEAD Escape Sets provide very high levels of protection due to the latex neck seal and moulded oronasal mask which provides an excellent face seal.
Visual and Audible Alarm
These alarms provide the wearer with a three-stage audible and visual alarm sequence.
Stage 1: initial on start up.
Stage 2: initiated after 66% of the effective duration.
Stage 3: initiated when the effective duration of the set has been reached.
Lightweight
HEAD15 is light and comfortable to wear because the generator cells that constitute to most of the weight are evenly distributed. HEAD15 weighs approximately 1.6Kg when worn.
Storage Integrity Indicator
HEAD Sets are sealed in a container that incorporates an indicator providing constant visual awareness of the unit's integrity and condition. The system allows the unit to be stored for up to 12 years, with no maintenance costs, except for an inspection at 6 and 9 years.
Storage and Carrying Systems
HEAD15 is supplied in a bandolier carry case that is discarded when HEAD15 is donned.
Product configurations
Head15 in Carry Case Size: 335 x 300 x 165 Weight in case: 3 kg
---
Part No.: 802.001.10 HEAD15 Work/Rescue Set in blue Bandolier/Carry Case
Training equipment on request
Revalidation and refurbishment on request