Mini Pipe Handler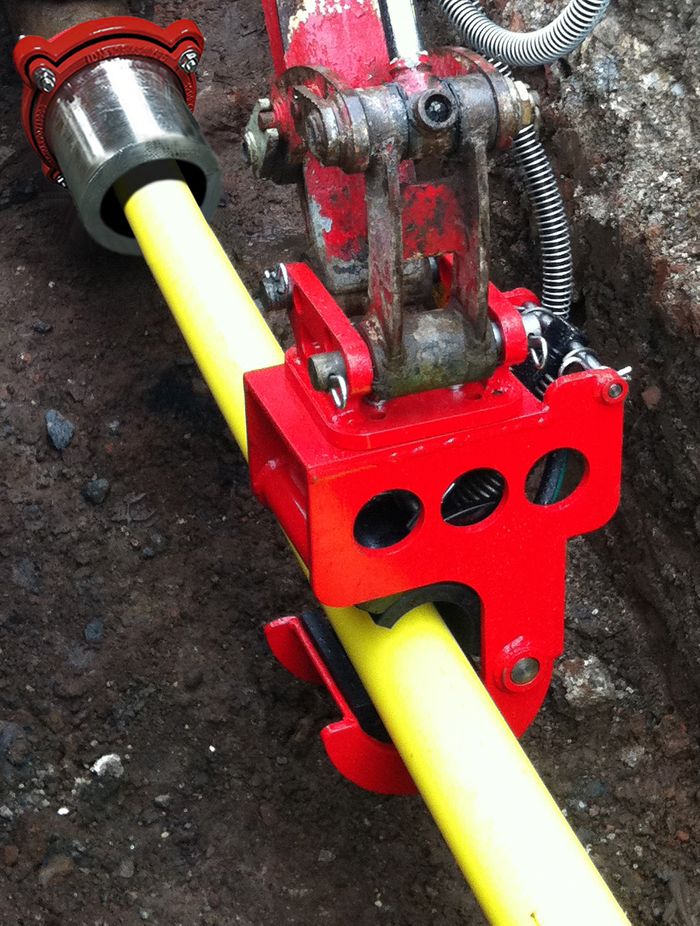 Following the success of The Pipe Handler, SVI launched the Midi and Mini Pipe Handlers which are lightweight handlers for inserting and manoeuvring PE pipe up to 180mm in diameter.
These lightweight insertion tools attach to a mini excavator using bucket pins. During operation, the Mini and Midi Pipe Handlers can be controlled entirely from the safety of the cab, removing the need for operatives to be in the trench at any time.
The fixed J-shape lower jaw is designed for side loading of the PE; it then cradles the pipe, while the hydraulic upper jaw clamps the pipe and inserts it into the host pipe using the hydraulic power of the excavator. Typical insertion speeds of up to 10 metres per minute can be achieved.
For use on 1 ½, 2 and 3 tonne or above hydraulic excavators, the Mini and Midi Pipe Handlers accommodate pipe diameters up to 180mm, with a full range of shell inserts available to handle specific pipe sizes.
Benefits of Pipe Handlers - Small Diameter
Safety – the side loading jaw avoids the need for operatives to work in the trench. It provides a safer alternative to using an excavator bucket and sling to insert pipe.
Simple – one stage set up for entire insertion operation.
Speed – achievable insertion speeds of 5-10 metres per minute.
Ease of use – a lightweight tool to avoid handling problems. The lower fixed J-shaped jaw keeps a constant controlled depth of pipe for ease of insertion.
Adaptable – the Mini and Midi Pipe Handler can be fitted to either a single or dual fed excavator and are adaptable to fit most excavators.
Minimum clearance – as little as 35mm is required.
Efficient - offers efficient, controlled pushing force. The pushing action can be reversed if necessary.
No pipe damage – the clamp design prevents pipe damage and slipping in wet weather.