PE Cutter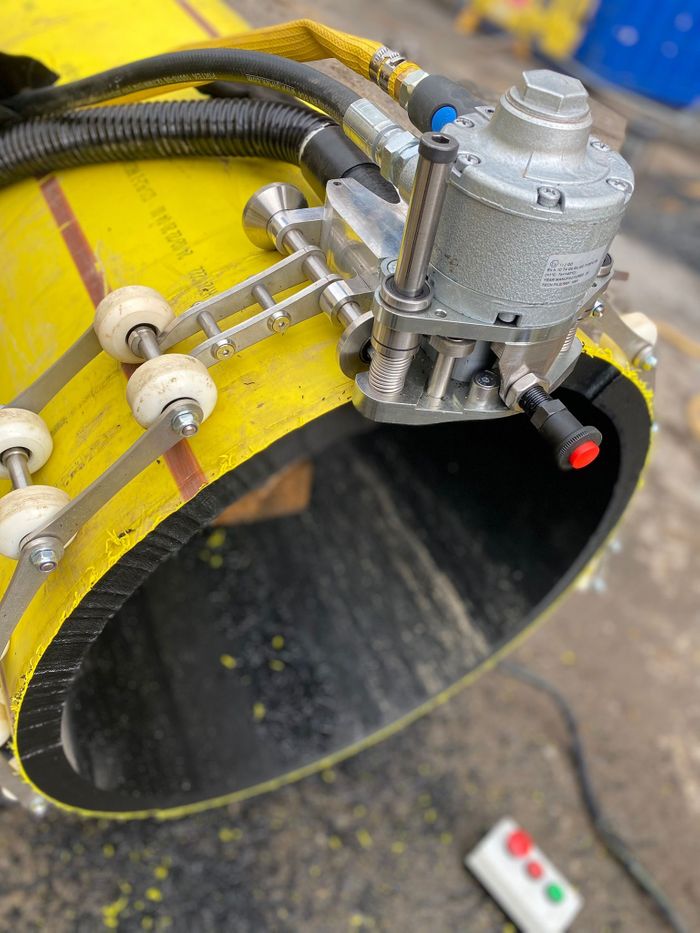 Steve Vick International (SVI) have developed, as a joint NIA funded project with Northern Gas Networks (NGN), a new PE Pipe Cutter for large diameter PE.
The PE Pipe Cutter offers an accurate, safe, and efficient method
of circumferentially cutting large diameter PE pipe. It easily cuts pipes with diameters of 250mm and above, with wall thicknesses up to 70mm in one full pass.
The unique, low profile machine is pneumatically powered and
capable of accurately completing a full circumferential cut on 630mm PE pipe in less than 5 minutes. This compares favourably to standard cutting techniques and represents a significant time saving.

The PE Pipe Cutter is safe to use in above ground and in ground
scenarios and requires minimal clearance. With a total working height of 170mm the PE Pipe Cutter is ideal for use where space is restricted.

With safety being paramount in the design process, the cutting element remains enclosed in the wall of the pipe throughout the circumferential cut. It is this unique safety feature that sets the PE Cutter aside from traditional tooling, such as rotary cutting disc machines and chainsaws, which have been long associated as
hazardous, with potential to cause serious injury.
The cutter performs with precision even when the pipe may be under bending stress which can cause blade pinch when using traditional methods. The swarf collector gathers the PE cutting waste as the unit rotates around the pipe, thereby reducing the amount of microplastics emitted into the surrounding environment.
The PE Pipe Cutter is robust, efficient, safe, ergonomic, cost effective and is a welcome addition to SVI's extensive range of pipe cutting equipment which includes, Rapid Rotary Cutters, Rapid Window Cutters and Keel Cutters.
Benefits
Improved safety —negates hazards associated
with chainsaws, circular saws or hacksaws as
the cutting device remains enclosed in wall of
PE throughout cut.
Extremely quick cutting time — approximately 3
minutes to cut a 630mm diameter PE pipe.
Precision cutting reduces need to
"finish" the pipe ends before butt fusion or
socketing.
Environmentally friendly — swarf is collected as the unit rotates around the pipe, reducing
the amount of microplastics emitted with a
98.5% pick-up rate.
Lightweight — simple to set up and operate.
Versatile — chain can be easily adjusted or added to, to suit different pipe diameters.
Long lifespan — supplied with a range of bespoke cutting tools, maintenance tools and security case.