FT Pipeline Systems
Stand: C60
Asset management
Valves and flow control systems
Pipes, pipelines and drainage solutions
Access products and security
Corrosion control/Protective coatings
Field Operations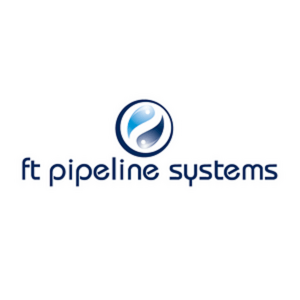 FT Pipeline Systems has provided steel water pipes, field joint protection sleeves and stop-tap replacement locking lids to the water industry for over 30 years. We also have a Water Treatment division boasting the first ever leak detectable, flexible chemical dosing hose, along with a Gas to Power division who supply gas pressure reducing stations with a range of regulators and gas safety products.
We have a ductile iron division who can quickly source a wide range of pipe and fittings for your job and who also stock Viking Johnson products.
Address
Unit 6B
Eastern Park
Eastern Avenue
Lichfield
WS13 7SY
United Kingdom
Offloading of 1600mm steel water pipes at the docks, ready for inspection and then delivery on to the customer.

Watch about a tonne of steel pipe being pushed inside another pipe, by hand, using FT Pipeline Systems roller spacers.

Lift even the most stubbon stop tap box lids or  manhole covers with this revolutionary 'ManUp' key from FT Pipeline Systems. It saves time and prevents injury.
10 minute solution to replace defective stop tap box locking lids.

Flexible and rigid dual contained chemical dosing hose with leak detection.

Heat shrink sleeves, cold applied tapes nd liquid epoxies.

Gas Pressure Reduction Stations and gas safety products.

All the steel pipe fittings for your scheme. CAD drawings are provided along with a choice of external coatings and interal linings.

Steel water pipe specifications: steel grades, coaings, linings, pipe sizes and jointing systems.